When moving into a new home there are many things to consider when it comes to window coverings.  Will there be a combination of blinds and drapery or just blinds? How do you know what product is right for your home?  Will you use the same treatment in every room or do you like each room to feel different?  Where does the sun rise in comparison to the bedrooms?  Do you have privacy issues which need to be addressed or do you have a view which needs to be maximized?
There are so many interesting styles of window coverings on the market today that basic faux wood blinds don't even make it onto the radar as an option.  If budget is top priority then faux woods are a faithful friend that wont let you down but consider some of the other options beckoning your attention.  Hunter Douglas has made silhouettes a popular alternative for a slatted product that can be tilted.  Silhouettes are a blind that has two layers of sheers with a floating vein in the middle that can be tilted open or closed.  They are made from fabric which evokes elegance and sophistication.  In recent years the silhouettes have become so popular that they now come in a variety of tints and colours.  They made their debut over 25 years ago and only came in white for many years.  The tinted shades have a casual elegance beyond the formal feel that the white offered for so many years. For those that love to roll away their blinds completely they are a great option because they disappear into a small cassette for an unobstructed view during the day.  For those extremely hot days they filter the light and significantly reduce the heat coming into the home.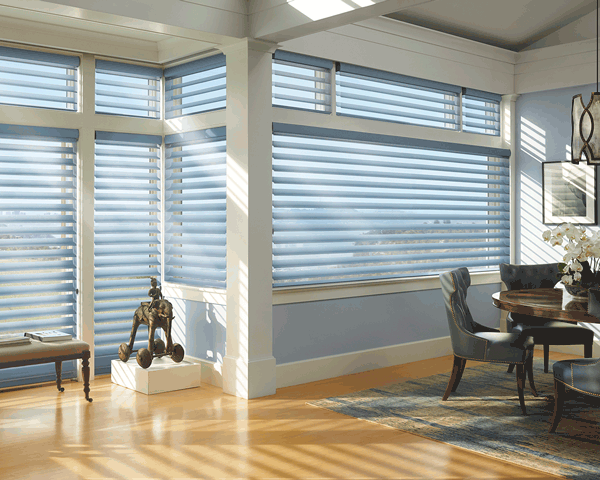 If you are living in a community where the homes are fairly close together, you would do well to select blinds that have a top down bottom up feature such as Hunter Douglas Duette cellular shades or roman shades also known as vignettes.  The lower part of the window gets covered where the privacy is needed while still allowing the top of the window to remain open for an unobstructed view. The top down bottom up feature also minimizes the heat and cold when in their top down position.  The air pockets in the cell shades make them the most insulated blinds on the market.  Hunter Douglas Architella Duettes have an added pocket making them the best of their kind available.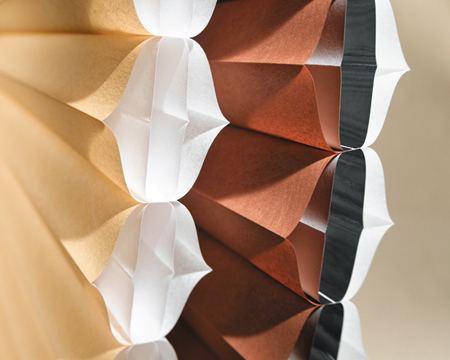 Rollershades have become extremely popular over the last 10 years especially in the Okanagan Valley where everyone cherishes their view of the lake.  These are a great option for minimizing the heat while still being able to see out during the day.  With the oversized windows of many homes the rollershades are particularly great because they can be made up to 11 feet wide in one piece.  While rollershades work well in the daytime issues seem to arise at night when lights are turned on and the neighbours can see what's for dinner next door.  A good question to ask yourself is "how valuable is your privacy!" The more open the blinds are for seeing out, the more open they are for seeing in at night.  The good news is that Hunter Douglas has an entire series of rollershades that are quite opaque but not room darkening.   If you like your blinds pulled up during the day then select a rollershade that you cant see through when you pull them down.  There's also a product called a dual shade which has two types of fabric rolling out of one headrail.  You can have a daytime and a nighttime fabric all in one!
There are also many other specialty products that soften a space and have real designer appeal.  Hiring a professional to select the right product for your home is a careful process because window coverings are a highly visual component to the decor.
Many people are adding some sort of fabric treatment to their homes in addition to blinds.  Drapery has become extremely popular again because they add the finishing touches to all that new furniture!  Adding side panels or linen sheers frame a beautiful view.  For a master bedroom blackout drapery may be the only way to achieve a truly dark space.  If you have a bank of sliding doors going out onto a balcony then you just may have a struggle getting that room dark enough because the sliders are just too wide to cover in one single blind.  Custom blackout drapery adds a luxurious feel to a bedroom because of the folds of fabric that frame the window during the day.  The fabric is selected to compliment the bedding and pull the layers of textures together.  While custome drapery are a higher ticket item, they finish off a room like nothing else can.  Many homeowners will set a budget aside for drapery in the living area and also the master bedroom.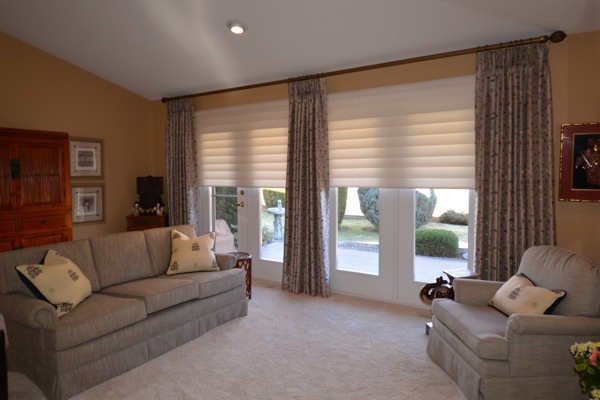 For those that cant seem to find the right bedding going custom is also a great option to consider.  Having layers of color and texture that all work together is truly beautiful.  One note of warning though: Custom bedding always comes complete with instructions for the husband on how to make the bed in the morning!