Building a new home is an exciting time.  Most people have an idea of what they like but dont quite know how to achieve it.  Whether building from the ground up or purchasing a finished home, getting professional help with home decor can save you money by buying right the first time. There's nothing more disappointing than selecting a paint color only to find out it turned pink on the walls or to buy a bargain sofa and bring it home and realize the size isnt proportioned to the room.  Hiring an expert to help pull your home together has become a key ingredient to making your house a home you fall in love with.
Today, the trend has become popular to sell your home with as much of the exisitng furniture as possible.  All the carefully added pieces that suited the style and size of the rooms are happy to stay where they are and allow you to start with a fresh pallette.  Bringing old furniture to a home that has a completely different design style can be frustrating if you dont know what you're doing but can look stunning if pulled together properly.
Relocating from a big city or downsizing often leaves a homeowner with money leftover to purchase new furniture and window coverings. Putting aside a part of the house budget to furnish your new home allows some playing room to finish off the last of the process.  This is also where window coverings are considered. Blinds and drapery require as much consideration as the sofa purchase because they are a larger item which make them highly visual. Adding decorative side panels is like adding an area rug to a vertical surface.  Both combine texture and colour which become a great way to pull the decor of a room together.   At the end of the day, drapery always seem to take center stage.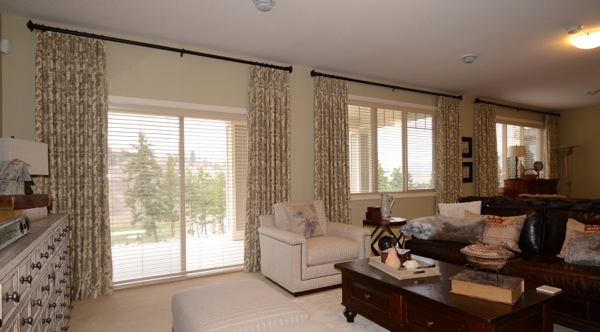 The trend for drapery has grown considerably over the last ten years and the venture back to prints has become hugely popular.  Contemporary homes will go for a more sleek look with textured solids or billowy sheers.  Selecting a shade slightly darker or lighter than the wall colour is surprisingly more visual than imagined.  People will often comment that they wont see the drapery when the colour is only a shade removed from the wall but their fears are laid to rest when they see them hung.  The soft folds create shadows and the drapery come to life with their tone on tone effect.   Linen sheers also have a dramatic effect in a room because of their organic nature.  Being unlined allows for the light to shine through and have a deconstructed feel which is an extremely popular design style today.  Using sheers for a large bank of windows is also a great option when blinds arent wide enough to cover such a bank of windows.  The sheers are used as decorative side panels during the day and can pull across to create privacy at night.
A decorative channel rod is used for wide windows that need multiple support brackets.  These rods come in multiple metal finishes and allow the carriers to run freely along the entire length of window.  They are also the most popular style used in a master bedroom where blackout drapery are needed to create a dark room.  Custom blackout drapery offer better coverage than any blinds for darkening a room because the fabric can go from floor to ceiling and wall to wall.  All blinds will have at least some light seapage on the sides because they have to fit inside the window sill and the lifting cords always generate a gap where the light shines in.  Custom drapery in the master bedroom are simply beautiful and the crowning glory of an away space that deserves extra care.
With all the consideration needed to furnish and decorate your new home remember to gather the experts around you to help make this an enjoyable experience.