Many people are unsure of how to apply window treatments to tricky areas like patio doors, bay windows or other areas that pose unique design challenges. Windows don't only stand solo, but often come in pairs, trios, or greater multiples. Whether treated individually or as a group, multiple windows in a room require clever window treatment ideas.
Patio Doors
Window dressings can really pull a whole room together, but they need to be functional too. When it comes to patio doors, they get a lot of use in the summer and are often unused in the winter. In choosing a treatment you want something that easily moves out of the way while still looking beautiful in the design of your space. Traditionally people have always gone to a vertical blind or drapes for patio doors, but there are other options available as well. While virtually any Hunter Douglas window fashion can be outfitted for a traditional patio or sliding-glass door, certain products are better suited to these and other large expanses of windows simply because they traverse horizontally, making them easier to operate in these types of applications. For example, for doors that need extra insulation from the heat or cold, Hunter Douglas Duette® Architella® honeycomb shades are an excellent option. Other treatments like shutters and Hunter Douglas Pirouettes are great options as well.
Have a look at some great examples of how to dress patio doors below: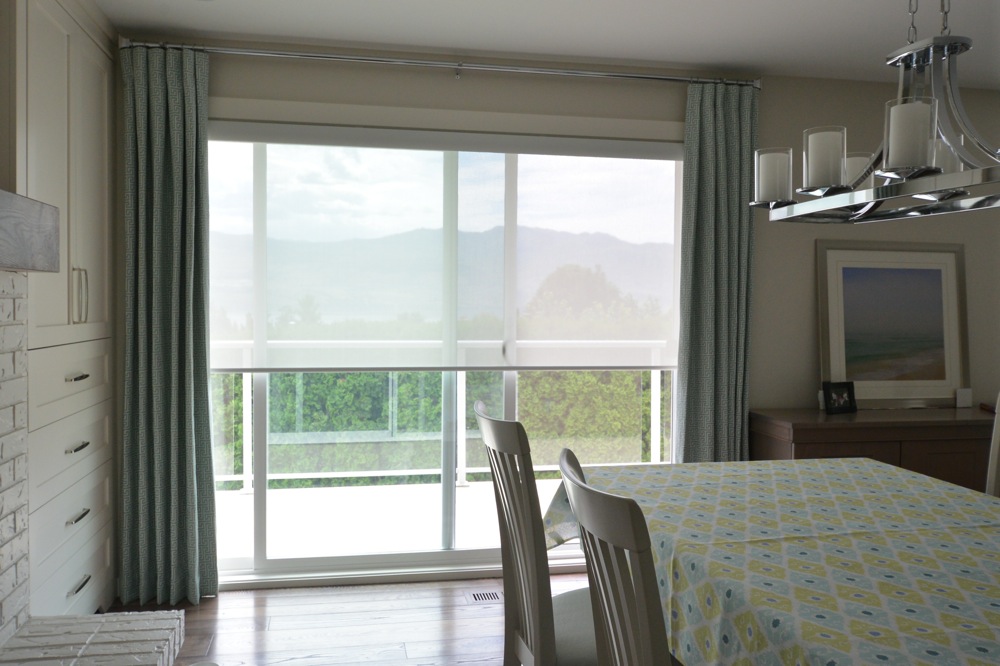 Bay Windows
Bay windows have a series of individual windows creating an alcove, they often have a window seat below, or frequently radiators placed under the windows. The period and style of the home will dictate to a degree the combination of window treatments. The photo below showcases some drapes we did for a client custom fit to their bedroom bay window.
Uneven Windows
Top treatments can be used decoratively or to balance uneven heights of windows in a room as well as add a decorative touch.  By mounting them all at the same height the windows will appear to all be the same height from inside the room. When you have uneven doors and windows, you can also create balance between by hanging a rod at the highest height spanning across the full length of the door and windows as in the picture below.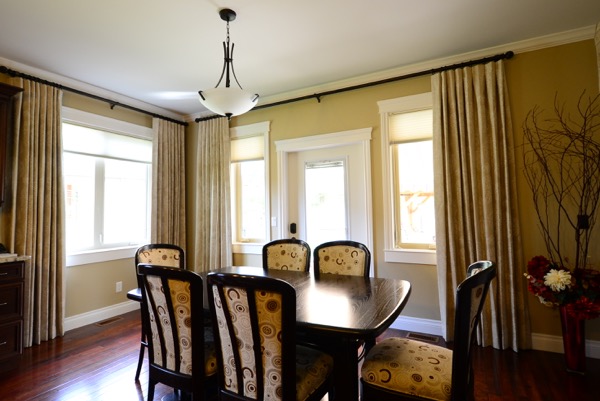 There are lots of creative ways to dress tricky areas such as these, working with a professional always helps! Contact us for a consultation.