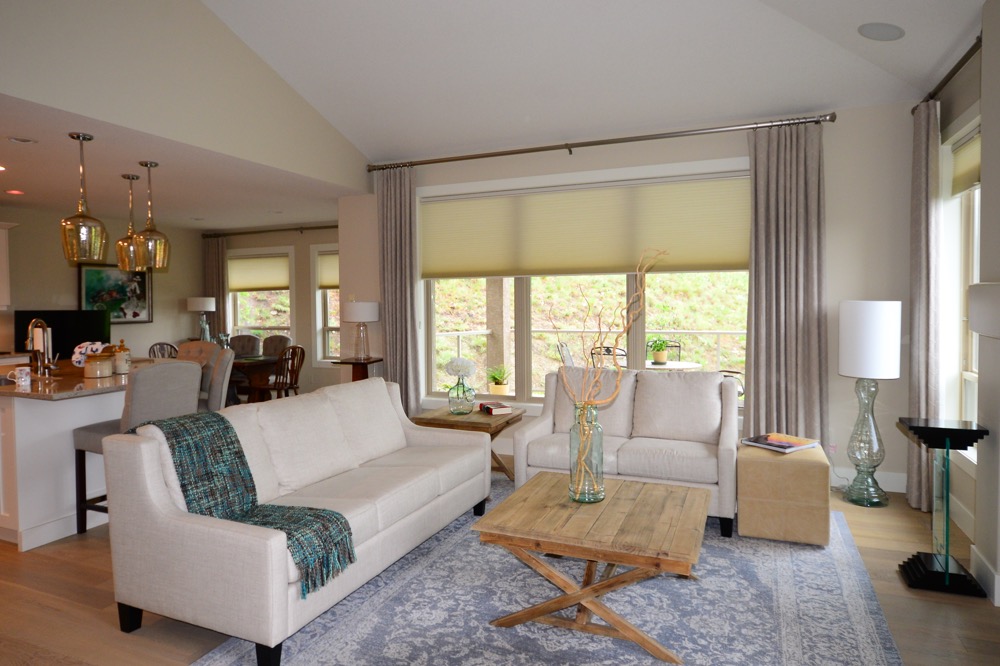 Congratulations on deciding to update your window coverings! Adding drapes, vertical or horizontal blinds, roller blinds or shutters can dramatically influence your interior and exterior aesthetic. If 2017 is your year to revamp and revitalize your window coverings and renew your space, The Well Dressed Window in Kelowna has the experience and the design savvy to help you make your window wish list come to life.
With decades of experience, a degree in fashion design and a passion for helping my client's unleash their personality, it really pays to work with a professional who understands all facets of the brands I provide. Some people are mistakenly under the impression that getting Hunter Douglas products from Costco is cheaper than going through an authorized dealer. You will actually save by working with an authorized Hunter Douglas dealer such as myself because you eliminate the middle man.
Knowledge Is Power
Being able to discuss the benefits of each window covering material, touch the variety of fabrics and have your installation concerns professionally handled are just some of the reasons why working with an authorized Hunter Douglas dealer is essential. Stress-free service is something that The Well Dressed Window strives to deliver with each transaction. Feel secure knowing that you are making an educated purchase that will benefit you and your family for years to come.
Don't Forget Your Deck!
Exterior roller blinds can dramatically influence the temperatures within your home. Blocking out the sun on your patio can help you keep things much cooler and more enjoyable during the hot summer months and trap additional heat during the winter. Lower this year's heating and air conditioning bills by having some Hunter Douglas roller blinds installed around your deck and see the difference for yourself this summer and every season.
Hunter Douglas Blinds: the Industry Standard for Custom Quality
Investing in new window coverings adds privacy, light solutions and value to your home or office. Feel secure knowing that you are free from nosy neighbours' and peeping Toms! Protect yourself from UV rays and the unnecessary light pollution wreaking havoc on your family's' precious sleep. Hunter Douglas offers fashionable and innovative design solutions that are functional and easy to maintain. Windows are a huge component of any building. How you decide to cover them can help you avoid excessive heating and cooling bills; saving you from drafts and energy seepage year round.
Navigating Your Window Covering Needs
Which hardware will you require? What kind of overhang are you picturing? Are there valences to take into consideration? While it can initially seem easy to update your window coverings, there are numerous factors to take into consideration in order to ensure the correct fit and style. Having an experienced professional take your measurements, place your order and handle the installation simplifies everything!
Innovative Style & Superior Selection
Hunter Douglas continues to surpass the competition. Offering bold prints, sleek lines and tone on tone selections ensures that there is a window covering for every taste and budget. Brighten up your décor or completely block out daylight with their evolving, stylish designs. Regardless if you prefer traditional or contemporary, there are plenty of choices to help you transform every room in your home. Roman blinds are fabulous and functional in kitchens, bathrooms and bedrooms.
Dual transition blinds that open from the top and bottom can help you maximize your view and privacy. Let the moonlight in and select your cityscape or natural surroundings while blocking out immediate neighbours. Ideal for homes, condos, apartments and offices; these window coverings can help you maximize your design and privacy. Take control of your interior view your light exposure by calling me for a quote today! I am passionate about delivering the facts, figures and options to my clients so that you can make an informed decision.
Lifetime Warranty
Enjoy your investment for years to come. Feel satisfied knowing that you are working with one of the most reputable company's in the business. The Well Dressed Window is Kelowna's window treatment specialist. Always happy to explain your warranty information and answer any questions or concerns; providing exceptional customer service is part of every transaction. I look forward to working with you!