Each year I get phone calls from clients in a panic because they put off ordering their blinds. The sun is now coming out in full force to heat up their home and the blinds can't arrive fast enough. The task of ordering blinds doesn't have to be stressful when you hire an expert to help decide what's best for your home. The misperception that you're saving money by going to a big box store is also worth checking into. Most blinds suppliers will offer a free in home consultation to help narrow the selection from hundreds down to the blind that's best suited for your home.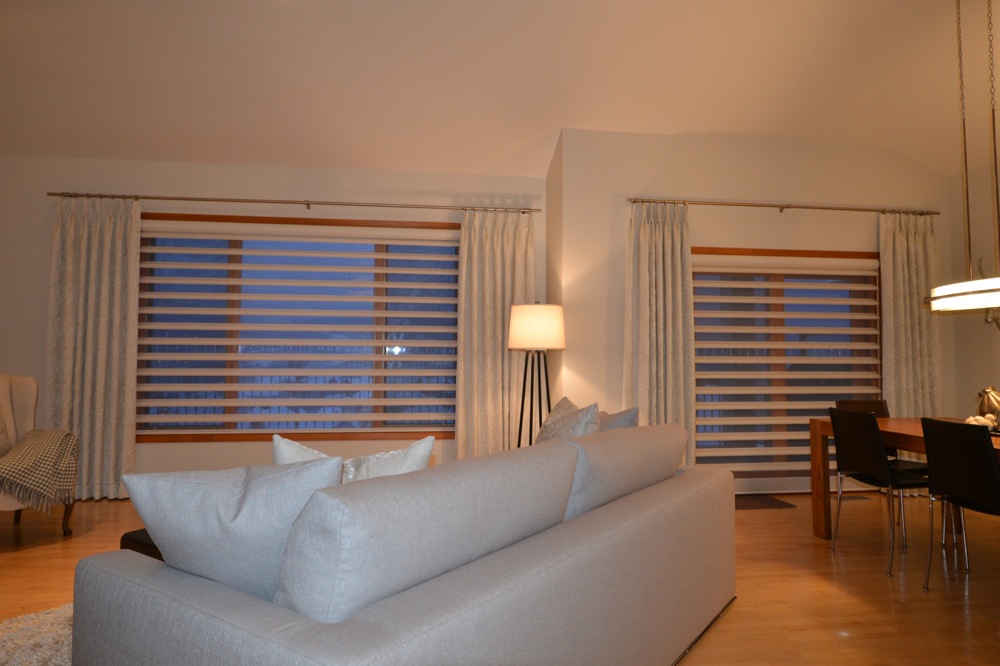 What to pick? There are so many choices on the market today that add texture and style. Going with basic faux wood blinds, in my opinion , is the easy way out for the sales person selling the blinds. Blinds should reflect the price point of the home that has been built. It's like saving up to buy a designer dress and then not finishing off the outfit with the right pair of shoes and accessories. Blinds are more than a functional part of the home because they are highly visible and are a great way to add to the overall design of the home. With all the large windows in new home designs blinds become a big part of the room and are like adding an area rug to a vertical surface. Everyone knows that the texture of a rug softens the room and blinds achieve the same effect.
There are also many products beyond wood blinds that can be made as a single blind to fit a large window. Rollershades have become hugely popular for this very reason and have branched out into a diverse array of textures. Some of my favourites are Rollershades from Hunter Douglas which showcase fabrics made from linens, tweeds, bamboos and screenprints. With contemporary homes gaining popularity the Hunter Douglas pirhouettes are a top seller for homeowners today. These sleek shades specialize in wide widths and are a combination of a rollershade and roman shade and, best of all, they showcase a beautiful view during the day and are able to tilt closed for nighttime privacy. It's a hard act to follow when one blind can offer all these qualities!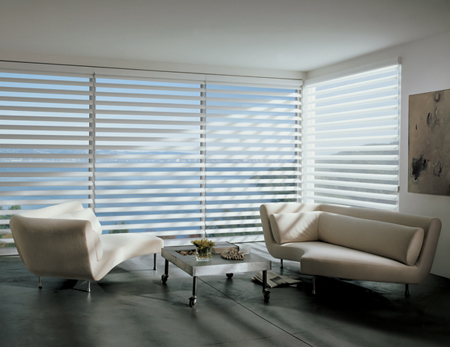 From all the blinds on the market today my personal favourite are the pirhouettes. Their fabric selection is extensive and they look as sharp from the outside as they do from the inside. Having white blinds on the inside of home looks great but does it look as good when they're glowing against a dark exterior? There are so many things to consider when shopping for window coverings so instead of doing it yourself why not invite an expert in to offer their opinion. You won't be disappointed!