Elegant, functional and necessary in our arid climate, window coverings are a vital component of your business aesthetic. The Well Dressed Window can help you transform your window coverings to compliment your workspace. Drapery is not just for your home! Gorgeous styles can be incorporated into the interior of your salon, spa or office. When clients feel comfortable and secure, they are definitely more likely to return.
Increase Your Ambient Light At Work In Style
Having custom drapes can dress up your location and even save tremendous amounts on your heating and cooling needs. Enjoy some translucent or opaque sheers and top off with drapery that matches your walls or highlights your upholstery or flooring. The Well Dressed Window in Kelowna has popular combinations in a variety of neutral or bold shades or feel free to customize your own blend. Staff and guests alike will enjoy having more natural light to work with. It is nice to be able to see the sky when you desire or have complete privacy whenever you like.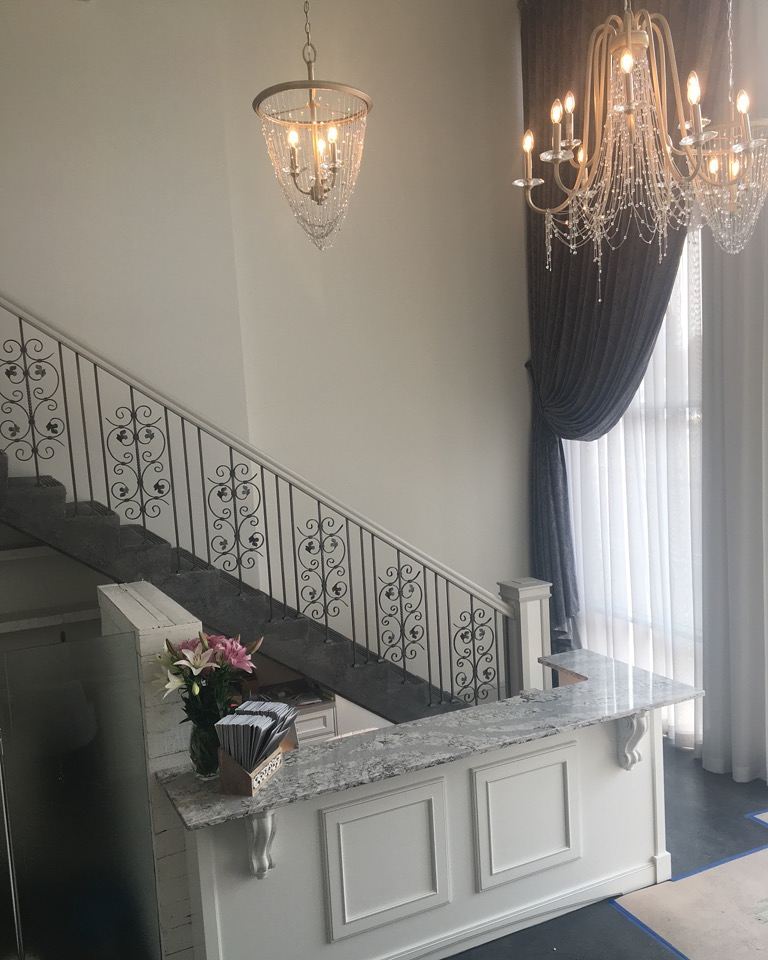 Boutique Esthetics Lounge opens in lower Mission designed with an old world appeal. Embossed velvet floor to ceiling drapery steals the show.
Create a Welcoming & Relaxed Atmosphere
Most of us attribute drapes to residential locations only. However, many businesses these days are incorporating a comfier vibe that invites clients to sit back and relax which translates to future visits. A welcoming, soothing atmosphere can be achieved by updating your current rickety, dusty window coverings with something more appealing. Add volume and height to your space by strategically hanging your drapes to display a full-length window, even if you only have a tiny one to work with! Michelle from The Well Dressed Window can provide you with a consultation and some savvy styling options to consider.